NWA Highlights | All In Tour – Josh Fohner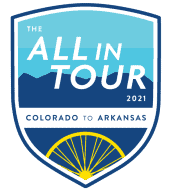 Northwest Arkansas is nothing short of amazing when it comes to community support. Our community rallies together to support those in times of need and celebration. Today, on July 1st, we witnessed that support right on the Downtown Bentonville Square when hundreds of bikers gathered together to participate in the All In for Josh Tour. On September 27th, 2016, Josh Fohner was struck by a vehicle while riding his bike. He suffered from a broken neck, fractured vertebrae, multiple facial fractures, and a severe traumatic brain injury. After being in a coma for 15 months, Josh started his rehabilitation journey and has since then experienced tremendous progress. For the past two years, he has been prepping for his greatest feat yet- a 908 mile bike ride from the place of the accident, Buena Vista, Colorado, to Springdale, Arkansas. It is only appropriate that Josh end his tour in his hometown of Springdale as he is an Arkansas native and University of Arkansas alum. On his road to recovery he has been able to accomplish many achievements such as wiggle his toes on command, water ski, complete math computations, and many more. 
The All in Tour signifies a new chapter in Josh's recovery as well as send a message of hope and encouragement to disabled and able-bodies alike. The tour started on June 11th and this morning, July 1st, bikers from all over joined in to bring home the last stretch of the tour- a 28 mile bike ride to Springdale, AR. The final stretch of the tour ended with a Ride for Hope celebration at Walter Turnbow Park in Springdale. The completion of the All In Tour kicks off Josh's new chapter in recovery as well as send a message of hope to disabled and able-bodies alike. 
It was neat to witness the tour traveling through Downtown Bentonville on their way to the finish line of a 908-mile bike ride for a great cause. If you would like more information please visit one of the links below: 
https://www.allinforjosh.org/all-in-tour
https://www.allinforjosh.org/tour-map
https://www.allinforjosh.org/single-post/progress-and-opportunities