Northwest Arkansas Social Media Guide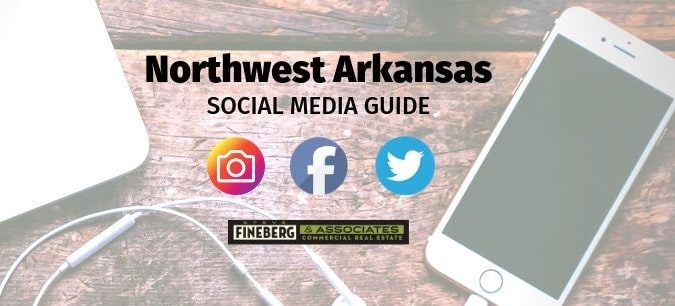 Northwest Arkansas thrives on local, community support. Every day there are events to attend, new businesses to check out, and much fun to be had. It can be hard to keep track of all these things on your own and making sure that you don't miss a thing! With that being said, we are very lucky to have a thing called social media theses days. Social media can be a great tool for real-time updates, inside looks, and highlights. We can utilize social media to navigate what is going on around us and make sure we are the most informed about our communities. We thought it would be a good idea to share some of the social media accounts we follow that do a great job of highlighting things going on around Northwest Arkansas. Give these accounts a follow if you are wanting to be "in the know."
This account does a great job of highlighting the treasures of NWA. You can find a wide range of content on this account because they post it all- restaurants, stores, outdoor activities, and even fun picture opportunities in front of the many painted murals around NWA.
Instagram- @findingnwa | Facebook- @findingnwa
Twitter- @findingnwa | Website- findingnwa.com
Followers across all platforms- 27K
Leisurlist's social media accounts are perfect for finding networking events or staying "in the loop" about new places popping up around NWA. They even have an app that will give you suggestions for activities based on your interests!
Instagram- @leisurlist | Facebook- @leisurlist
Twitter- @leisurlist | Website- leisurlist.com
Followers across all platforms- 13K
 Of course we had to list a food account as one of our favorites! Eat NWA serves as the "go-to" account for the best, local food around NWA. Just a warning- following this account will have your mouth watering and your mind constantly thinking about your next meal.
Instagram- @eatnwa 
Followers- 19.6K
 The Scout Guide NWA is an insider to local businesses in the area. They cover boutiques, new to market listings in the area, popular dining spots, and so much more. You can find their latest scout guide volume around town at your favorite shops and restaurants!
Instagram- @tsgnwarkansas | Facebook- @tsgnwarkansas
Website- thescoutguide.com
Followers across all platforms- 8.5K
There are so many great accounts highlighting Northwest Arkansas and these are just a few of our favorites to follow. We love to support and live local. By staying in the know about community events we are able to do just that! Go give these accounts a follow!