Meet the Mayor – Doug Sprouse | Springdale, AR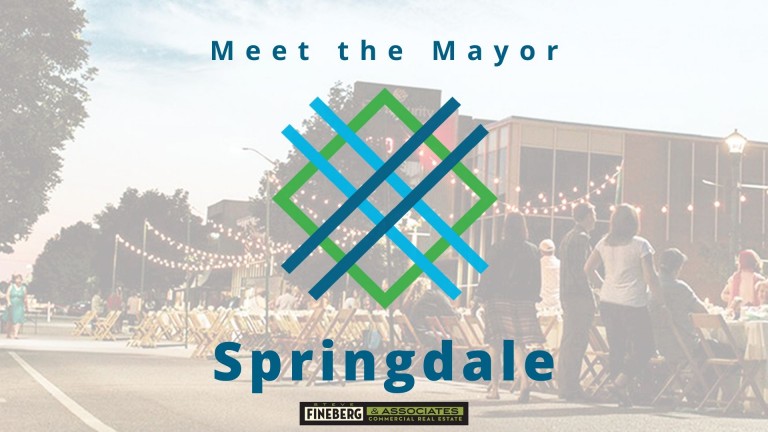 Springdale is home to more than 80,000 people making it the 4th largest city in Arkansas. Like the rest of Northwest Arkansas, Springdale has experienced tremendous growth over the last decade under the guidance of Mayor Doug Sprouse. We sat down with Mayor Sprouse to discuss recent projects and the future of Springdale. 
Downtown areas are often rich with history that have been preserved or restored over time. A push for revitalization of downtowns is currently happening across the country and Northwest Arkansas is no exception. Acting on this renewed interest, Springdale adopted the new Downtown Springdale Master Plan in 2015. The new plan's focus is centered around creating a sustainable, vibrant downtown that will offer dining, retail, residential, and commercial opportunities. Mayor Doug Sprouse is excited about the city's effort to restore its downtown, "You know everybody is doing their downtown revitalization and redevelopment and everybody is in different stages. I really see Springdale's as being very organic and authentic, and I'm excited about that. There have been many, many downtown revitalization efforts for Springdale." When asked about the motivation was for a new master plan, Mayor Sprouse stated,  "I think what made the difference this time, is the Razorback Greenway. That was the catalyst we needed to get serious about downtown redevelopment. Because all these people are going to be using this Greenway, from Fayetteville to Bentonville, and they're going to come through here. What are they going to see? What is going to be their Springdale experience? I think between downtown Springdale and Lake Springdale is the prettiest part of the Greenway." 
Since the release of the new master plan, there has been an influx of redevelopment by local Fortune 500 companies Tyson & J.B. Hunt as well as Walton Family related entities.  In 2016, Tyson Foods purchased and renovated a building in Downtown Springdale that employs over 100 employees. Mayor Sprouse spoke positively of the impact these large companies could have on Springdale. "Specific to downtown, Tyson has really stepped up. They're not only putting money down here, but they're putting people down here. They are going to keep going with big plans to move people down here mostly in the tech area, so really good paying jobs down here. J.B. Hunt has moved some people down here and certainly the Walton family and related entities they are looking at a lot (of projects) and they've done a lot here already." A Walton-led group recently announced plans to renovate the old Ryan's Clothing store and convert it to a space that would include entertainment, dining, retail, and office space. The group has also started construction on a 4 to 5 story apartment complex with retail and office space on the lower level. These projects are just the beginning of what is to come for Downtown Springdale.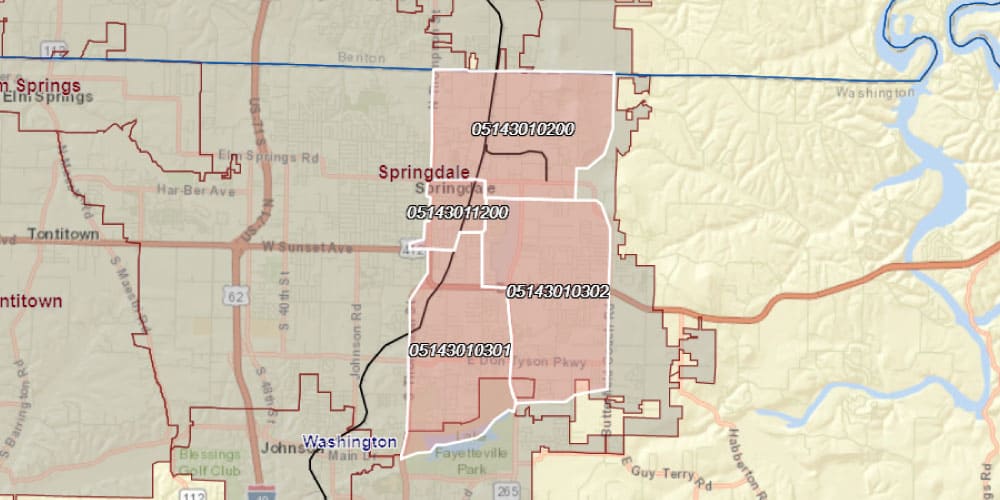 Opportunity Zones will also play an important part in bringing more investment to not just Downtown, but the entire city. "That's a huge deal, bigger than I understand. There is a lot of wealth and capital gains to be sheltered. For Springdale to get 4 opportunity zones. That's more than anyone in the state, except Little Rock who has 4 also," said Mayor Sprouse when asked what impact Opportunity Zones could have on the city. The rules, which were finalized at the end of 2019, allow for capital gain deferment or reduction if property investments are made in an Opportunity Zone through a Qualified Opportunity Fund. Mayor Sprouse found it is not just people outside the area interested in this type of investment, "There are funds being developed by Springdale people who want to invest in Springdale projects. They are people who have money that would like to see it invested and that's exciting. They've got a chance to invest in these opportunity zone funds and see not only their own financial benefit and tax implications that are improved, but they get to see the development in their neighborhood.
Parks & Recreation has been a major point of emphasis for the Mayor in recent years. The City of Springdale recently purchased a building at 1906 Cambridge Street, formerly known as the All-Star Sports Arena. The building currently being called the "Springdale Rec Center" will serve the citizens of Springdale in a big way.  "That was a great investment for our city. We paid all in about $4.1 million dollars. Its about 120,000 sf and there was no way we could build something close to that for three times that amount. We've got some room to put some money in it over time as we can." Springdale went from two basketball courts to six overnight when the purchase was made. The city has already made some renovations to the building and plans to add 2 more sport courts, offices for the Parks & Rec Department, studios for dance and gymnastics, as well as new concessions. It will essentially be a full-service building available to the city and its residents. When asked if the rec center could be a potential revenue generator for the city, Mayor Sprouse was adamant that the residents of Springdale were the motivator behind the decision. "The Springdale Rec Center, will always be willing to rent it out and we make pretty good money on concessions, that all stays in Parks & Rec. In order to create a revenue generator- we won't do it at the expense of the ability to provide recreational opportunities for all our residents."
Mayor Sprouse said a big effort is going into renovating and expanding Springdale's outdoor recreation scene, "Springdale was kind of late to the game in that area. Its definitely an economic revenue driver."  In 2019, the city broke ground on Shaw Family Park which is located in Northwest Springdale. This 120 acre park will feature tennis courts, adult softball fields, an extreme fitness obstacle course, a splash pad, and more. Another focus will be on Randall Tyson Park. Mayor Sprouse said they will be allocating $5 million dollars for "New concessions and the grade around the baseball and soccer fields are not ADA accessible at all, so we are going to address all of that. It will be nice and fresh with new lighting on the fields." Mayor Sprouse is confident these parks will be beneficial to the community and  that everyone in Northwest Arkansas can enjoy.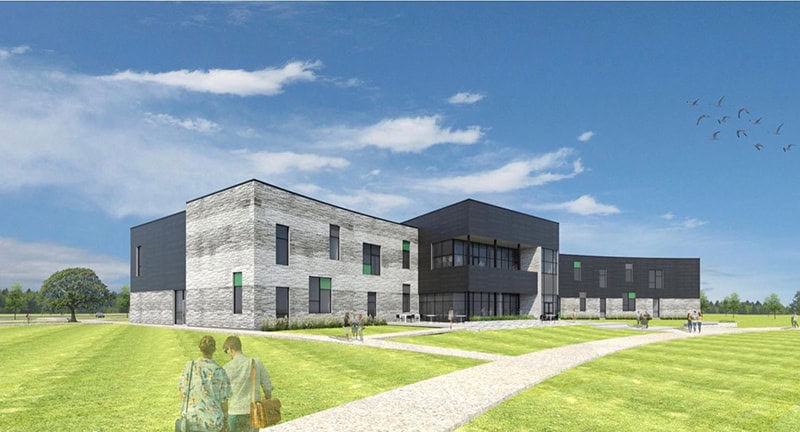 Northwest Arkansas Community College-
In January 2020 Northwest Arkansas Community College opened the doors to their new Washington County center. The need for a Washington County location stemmed from the fact that residents in Washington County had to travel to Benton County to earn a degree at NWACC. Originally, NWACC leased multiple spaces throughout Washington County for students to utilize. Now, those spaces have been consolidated into a 38,000 square foot building. Mayor Sprouse said bringing NWACC to Washington County "was something that was worked on a long time." This centralized location will better serve students in Washington county and the surrounding areas. 
Arkansas Childrens Northwest-
Northwest Arkansas Children's Hospital opened early 2018 providing state of the art care for children in our region. Before the hospital was built, patients needing care had to make the trip down to Little Rock, Arkansas. The impact that the hospital has made not only on Northwest Arkansas, but in the surrounding areas is not lost on Mayor Doug Sprouse. "We were so thankful. You know that wouldn't have happened without the George family and their connection to Children's. They've been huge supporters of Children's for personal reasons and when Gary offered the land, boy that got the ball rolling. (Northwest Arkansas Children's) is going to be such a big deal, it already is. It's a big deal for families. You know, for families that live up here, they don't have to go twice a month to Little Rock for check ups. Its a huge deal economically and development wise."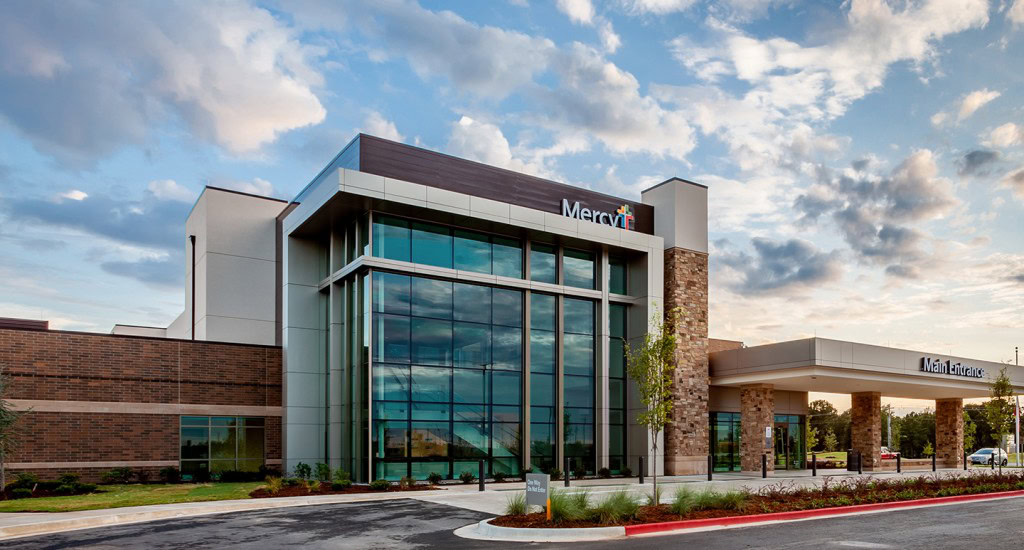 Mercy Springdale- 
Mercy Health recently opened a new multi-specialty clinic called Mercy Springdale. The clinic will offer specialties such as cardiology, urology, endocrinology, pulmonology, and it will have primary care as well. This 63,000 square foot clinic sits on 31 acres and is one of the largest clinics opened as a part of Mercy's expansion plan in the last two years. With more than 60 exam rooms and an emergency department, Mercy Springdale is  able to better serve residents of Benton and Washington Counties.
We enjoyed sitting down with Mayor Doug Sprouse to hear his expectations for the future of Springdale, Arkansas. We spoke in depth about future development in Springdale, specifically downtown, and Mayor Sprouse said something that got our attention- "I said early on when we started this redevelopment, lets not develop the "cool" out of it. What I meant by that was, let it take its own shape." Springdale's approach to organically and authentically "taking its own shape" will help to further establish their identity in Northwest Arkansas.