XNA Planning More than a Name Change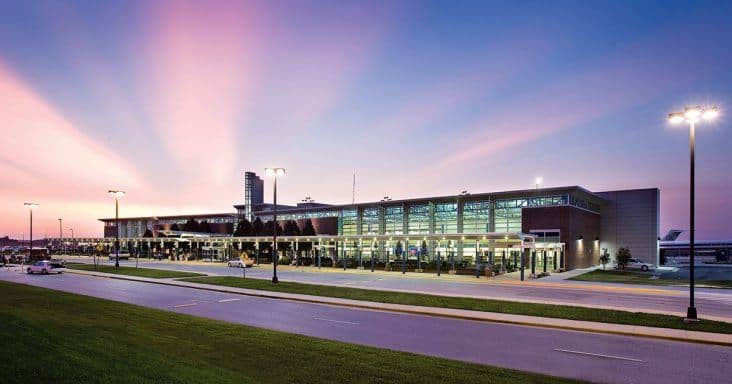 The newly named Northwest Arkansas National Airport has experienced tremendous growth since inception. It was named Arkansas' Airport of the Year for 2019 by the Arkansas Department of Aeronautics. Passenger numbers in June went up 23% year over year, setting a record for the airport. This increase in traffic has sparked numerous plans for XNA and we wanted to get the inside scoop. We had the opportunity to meet with Alex English, XNA's Public Relations and Marketing Specialist, to take a behind the scenes tour of the airport and get more details on the upcoming projects.
On December 11, 2019, XNA changed it's name to Northwest Arkansas National Airport. English explained that this change was long overdue because XNA has been servicing flights nationwide for years. She also said it gives "more credit" to the airport and could "attract more airlines." In 2019, XNA announced new flight destinations to Phoenix, Denver, Philadelphia, Nashville, and Miami as well as adding low-cost carrier, Frontier. Before our tour, were able to talk with Aaron Burkes, CEO of XNA, and hear his thoughts on the projects happening in the airport.  He believes these additions will contribute to a more positive passenger experience. Burkes said, "we are capturing more of those who are leaving our market to fly out of Tulsa or other markets. Average airfares out of XNA have also gone down as a result of this. So good improvement, especially for leisure travelers."
Northwest Arkansas National Airport's name isn't the only thing changing. XNA's Board of Directors have made many proposals for expansions and renovations within and around the airport. When asked, Burkes spoke about the need for expansion, "We are really trying to anticipate the growth that we know is coming and we want to have the gate capacity and the capacity inside the terminal to accommodate. Really, it's just trying to stay ahead of the demand that will be on the facilities and make sure that it's a first class facility that really serves our customers well." Some of the proposed and approved plans are:
1. Adding and/or renovating concourses
2. A taxiway renovation to ensure safety
3. An airport connector road to better serve Washington County
4. Adding an additional air traffic control tower
5. Baggage claim and lobby renovations
6. A rental car only deck 
7. New food and beverage options pre & post security
8. Exterior changes to the airport
In addition to those above, there are also some minor changes the airport will be making such as adding charging stations and kid's activity areas, revamping the Crystal Bridges installation, making the move to more digital advertising, and upgrading the mother's room. Another interesting addition coming to XNA are Jabber Boxes. These will be sound-proof meeting rooms that you can rent time for. Because of the heavy business travel that goes through Northwest Arkansas, these stations will serve a great purpose.
While on our tour, English showed us the areas of the airport that will be getting a face-lift, areas that will be completely redone, and others that have already been completed. One of the most recent renovations was expanding the TSA checkpoint. The expansion of this area was needed as the traveler lines would overflow down the escalators onto the first floor causing major delays and creating a safety hazard. The larger TSA checkpoint not only accommodates more people, but it also leaves room for an additional lane to be installed in the future. Another project that was completed in 2018 was the parking deck. The deck opened up an additional 1,400 parking spots for travelers and has easy access to/from the airport with a covered walkway. It has 3 floors, each lit with LED lights and a display system that tells you how many spots are available on each floor to help eliminate traffic. The deck has two electric charging stations, but the airport is looking to increase that in the future. 
English also made it a point to show us some of the lesser known amenities XNA offers and share some interesting facts that travelers may not know about:
1. XNA has the only moving sidewalk in Arkansas for travelers that are in a hurry
2. "Runway Rovers" are service animals that walk around the airport offering a friend to nervous travelers. Currently, XNA has dogs and a mini horse that are in the program, but they are submitting paperwork to have a mini pig as well!
3. There is a pet relief and wash station at the airport in case you have a furry friend traveling with you.
4. A quiet, sound proof room for yoga and meditation
5. "Grab" is an app where you can preorder food to be ready for pickup pre and post TSA in case you are in a hurry to catch a flight
These amenities are evidence that XNA is focused on ensuring traveler comfort and customer service. While walking through the airport, travelers may notice pictures, maps, and installations that highlight Northwest Arkansas and what it has to offer. English stated the airport wants to add more of these to "reflect the eclectic feel of NWA." By adding these NWA highlights, English said the airport is hoping to give travelers who pass through a glimpse of our unique, growing community.
The Northwest Arkansas National Airport is making big changes to accommodate the growth happening not only in the airport, but in Northwest Arkansas as a whole. It's exciting to see XNA catch up to the growth that is happening in the area and be able to better serve both business and leisure travelers. Thank you to Aaron Burkes and Alex English, we look forward to XNA's continued success!