NWA Highlights: Urban Forest Axe House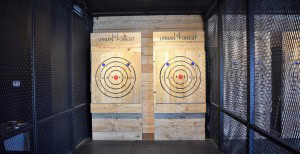 An old concept, known as axe throwing, has been re-imagined and restructured to create a new form of recreation. Axe throwing has been used throughout history for things like hunting or even in battle, but now it can be used for entertainment. With axe throwing locations in Canada, the United Kingdom, and now the United States this industry is quickly growing and becoming popular. Here in Northwest Arkansas there are a couple axe throwing locations with talk of more coming soon. We had the opportunity to tour Urban Forest Axe House, the first axe throwing facility not only in Northwest Arkansas, but in the state of Arkansas.
Bryce Paden, a Co-Owner of Urban Forest, took us on a tour of the facility, shared his story, and explained the hopes they had for their company. Urban Forest Axe House opened its' doors in Bentonville, AR in the fall of 2018. Being the first axe throwing establishment, they knew they had to make the experience one-of-a-kind. The sleek, modern design of the facility sets Urban Forest apart from the others and serves as a cool hangout spot.
What does an axe throwing session look like? Participants can reserve a lane online to ensure their spot. Urban Forest has 8 lanes that accommodate up to 10 people per lane. Each session is guided by a personal instructor and lasts around an hour and 15 minutes. Of course, before your session begins you sign a waiver because throwing sharp objects can be dangerous if not handled properly! When your session begins the instructor will go over the rules and safety tips to make sure your time at Urban Forest doesn't end with a trip to the ER. You will then learn some axe throwing techniques and tricks such as stance, throwing strength, and how to hold the axe. One of the things Bryce told us was that axe throwing is an easily attainable skill. Everyone can stick the board and the bulls-eye! Bryce said it has been truly amazing to see people of all ages and athletic abilities pick up an axe and get the hang of it within their first couple of tries. They gain confidence and it makes their experience more enjoyable. Once you and your group get comfortable with throwing, the instructor will lead you through some games. Whether you know the people in the lane next to you or not, it is always a good idea for some healthy competition. Some of the games played are around the world, where you try to hit specific areas on the target, and first one to 50 points. These games make the experience more enjoyable and allow groups to bond over competition.
Urban Forest Axe House hosts many different groups of people during the week like families, co-workers, girl's nights, and many more. Bryce informed us that they chose Bentonville as the location for Urban Forest because of the young, professional community and there is more disposable income. They have had a lot of success in hosting work meetings and office outings. This allows employers to show their staff what there is to do in the area as well as bond as a team. They have hosted companies like Tyson, Kelloggs, Walmart, and many others. A special guest made an appearance at Urban Forest that we had to get the scoop on. Bryce said their team received an email that an A-List celebrity would be coming in with their team. They did not find out who it was until Jennifer Garner, a well-known actress and Golden Globe winner, walked into the building.  He said she is very down to earth and a pro at axe throwing!

This industry has taken off with locations opening everywhere. Urban Axe House is a part of the World Axe Throwing League (WATL). Being a part of the WATL allows Urban Axe house to hold their own leagues while competing with other axe throwers across the world. There are rules and guidelines each indoor axe facility must follow in order to qualify for the WATL such as board build regulations, throwing techniques, point systems, and axe measurements. Those who are members at Urban Forest Axe House can utilize a throwing lane in the back of the facility that is blocked off for staff and member use only. They can practice their techniques and break in new axes any time the facility is open. Urban Forest Axe House had so much success with their first league that they are going to have to open another night of league play for their upcoming session. Bryce said they are excited to be a part of the WATL because it creates channels of communication with other axe throwing facilities around the world.
The atmosphere of Urban Forest Axe House is modern with a relaxed feel. Black steel cages surround the lanes and handcrafted, wood tables and chairs provide seating around the action. Bryce said their goal was to create a new hangout space where people would want to come and spend time with their friends. They have a "bring your own food and drink" policy which is a standard among axe throwing facilities around the world. This takes the pressure off the participants spending money on refreshments and allows them to be more focused on axe throwing and each other!
We had a great time at Urban Forest Axe House and were so intrigued by this new concept that we hope to host an office meeting there in the future! This spot is great for those who want a fast-paced, competitive activity to do with their friends or family. Anyone can be great at axe throwing and pick it up in their first session. We are happy that Urban Forest Axe House brought this fun activity to Northwest Arkansas. If you want to take a shot at the bulls-eye, book your session at the link below!